One Favorite Ingredient: Vermouth
I really have a thing for vermouth. And it's not ALL about the cocktails. I use it loads in cooking too — last night to deglaze a skillet after pan-frying steaks, sometimes splashed in a pan of braising greens, and I pour a swig or two into the roasting pan about halfway through roasting chicken. I go through so much dry vermouth, I've taken to buying two bottles at a time, and my husband and I are trying to figure out where we can start buying it by the case.
So this love of vermouth is nothing new, but was reinforced this morning when I finally decided to conquer the pile of clippings/notes/emails/etc. that has been living alongside my computer for too many months. (If I were the type to make resolutions, one this year would be to not let the piles win!) In that randomness I found not only one page pulled from Saveur magazine's Jan/Feb 2008 issue, but also a page pulled from the same issue of 2007. The magazine starts off each year with "The  Saveur 100" list of notable, delicious, quirky, helpful, inspiring, etc. items of interest. The 2009 issue just landed as well, with a special focus on home-cook oriented items. I'll digest that soon and pass along any favorite items of note.
In 2007, it's item #30 that caught my attention, titled "the return of the thinking person's cocktail." "Instead of vodka, think gin," the blurb mentions, "instead of Sex and the City's Carrie Bradshaw, think William Powell in The Thin Man." Amen on both counts.
The item features a cocktail from Audrey Saunders, owner of New York City's Pegu Club, who spoke on my panel about gin's renaissance at a culinary conference a couple of years ago. A variation on the martini, this blend of gin and vermouth she calls the "Fitty-Fitty" as the two show up in equal proportion — a polar opposite from the common "dryer is better" approach that calls for a mere whisper, a drop or two of vermouth. She stirs the gin and vermouth on ice, with a dash of orange bitters (I am currently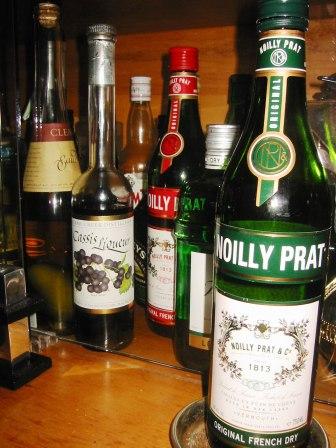 enamored with the Fee Brothers grapefruit bitters, which I plan to try this with later tonight!), then strains into a glass and garnishes with a twist of lemon.
From the 2008 edition of The List, it was #52 I clipped, "the most versatile cooking wine," featuring my longtime pal: a bottle of Noilly Prat dry vermouth. Dry vermouth has the acidic character you're often looking for in a white wine to cook with, with added flavor, body and character from the herbs and spices that are infused into the wine base. The recipe they include here is a sort of oven-poached sole, with dry vermouth, minced shallot, dots of butter, a little clam juice and water, topped with buttered parchment before baking.
Back to cocktails, I'm not sure where I picked this up — but on occasion I'll pour equal parts dry and sweet vermouth over ice, add a couple drops of orange bitters, a twist of orange zest and sip slowly at the end of a long day. Not as strong as a gin- or bourbon-based cocktail, this combo has a mellow, balanced flavor that hits just the right note for me on some evenings. Top-quality vermouth will make all the different. The mere thought is inspiring me to do more research into the artisan vermouths that are coming on radar, such as Vya.