In Praise of Dinner Parties
I looked down at the memo app on my phone, where I was jotting notes while reading Brunch is Hell on a flight recently. Right along side it was another note titled 'brunch,' essentially menu planning for the one day a year on which I fully embrace that mash-up meal: Christmas Day. The two camps, summed up: Brunch, woo-hoo!! and Brunch, go away!!
While I wouldn't go so far as to refer to brunch as 'hell,' the rest of the year I do share the deep dislike for brunch that co-authors Brendan Francis Newnam and Rico Gagliano espouse in their new book. My biggest beef is that by late morning/noon, I really want LUNCH. I've been up for hours, have had coffee and breakfast. I'm no longer interested in an eggy entree, fancified French toast, coffee cake du jour. Favorite restaurants that have a great lunch menu weekdays but go all brunchy on weekends (with perhaps a token burger/sandwich/salad offering)? They bum me out. Our neighborhood brewpub has the proportion right, in my view: one weekly brunch special offered Saturdays and Sundays, the regular delightful pub fare in full force those days.
But the worst of it? Mimosas. Diluted orange juice, compromised sparkling wine. Unless of course it's cheap-ass sparkling wine, for which some OJ masks the aftertaste of miserliness. For that I'll give you a pass. But invest a few more dollars in some decent bubbles and serve them as is. When someone offers me a mimosa, I always say "sure, just skip the orange juice." (I've got nothing against orange juice, just let it have its own glass.)
Now that I've got that off my chest (been harboring anti-brunch and -mimosa sentiments for quite a while now…swimming against a tide of supreme brunch worship of late), back to the book.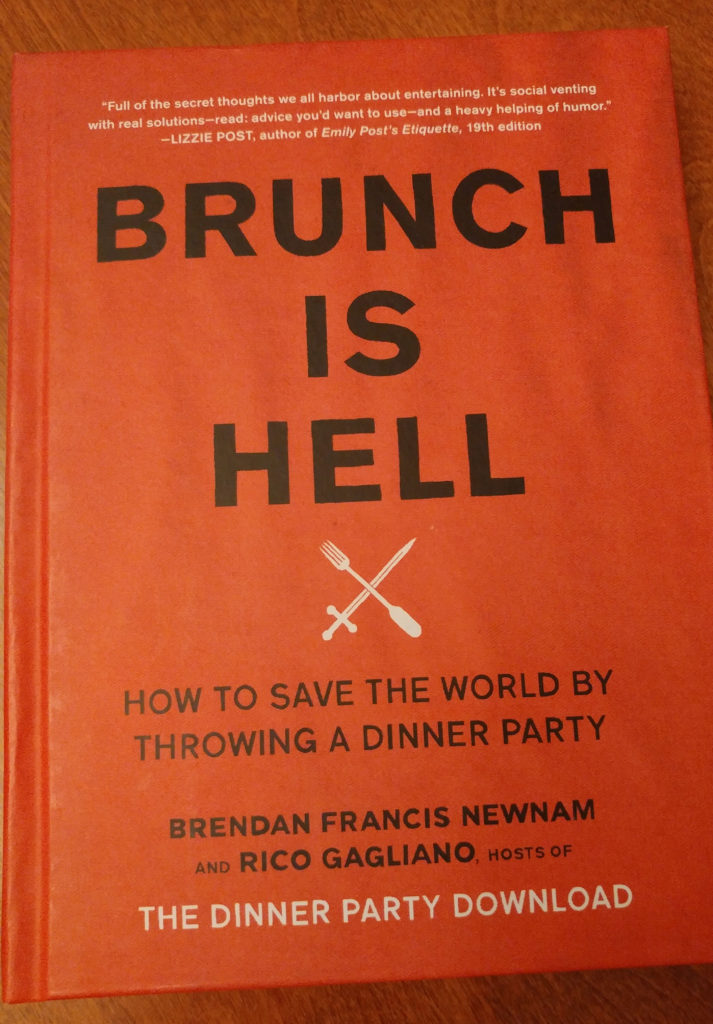 Once you get past the provocative title, the Newnam-Gagliano collaboration is less about dissing late-morning Benedict and Bloody Marys and more of an attempt to save society through the art of the dinner party. And THAT I am one hundred percent behind.
The book is a fun, easy read–with plenty of humor from the co-authors, who were ideal cohorts for ten years as hosts of The Dinner Party Download on public radio. I was a little late to that party, a listener just in the last couple of years (happy to have been in the audience for their last live show, which was in Seattle in November). Their premise of framing each episode around the flow of a dinner party–from icebreaker and playlist, through cocktails to the meaty conversation you might have later in the meal–was clever and emphasized distinct conviviality with their guests. Plus, our mutual adoration of an icy-cold gin (and only gin) martini made me a devotee as well.
There are laughs, some celebrity quips and quotes, helpful planning tips, even a few recipes. Entertaining and a little irreverent, it's a mostly lighthearted offering with some ground rules (their dinner party manifesto), anecdotes and philosophies to help with a solid plan for the evening. For that alone, the book's golden–ideal for fun diversion and interesting ideas to appeal to hosts of all stripes.
But then I got to chapter six: "Conversation." This chapter gets at the core of 'restoring civility' and 'saving the world,' as the book touts among its goals. If you never plan to host a dinner party, these pages resonate for just getting through life these days, in a society super-charged with divisiveness, mistrust, political divides, conflict, inability to relate to other points of view. I'll say I sat up a bit straighter through these pages, a very thoughtful toolkit for drawing great stories from people, and helping steer the dinner table dynamic away from conversational black holes.
They have a compelling claim that small doses of provocative subject matter–delving into the danger zones of sex, religion, politics–can be a release, put folks at ease, give them some permission to let their hair down. This…well, harder for me to imagine for my next dinner parties. I feel my blood pressure rise when contentious politics come up, and I blush during Cards Against Humanity. Maybe this will be my year to embrace getting out of my comfort zone where dinner party conversation is concerned.
Among the ideas I cheered the most while reading:
The maxim for hosts: "you should enjoy your own dinner party" — absolutely! A frazzled, stressed host too distracted to interact with guests, endlessly in and out of the kitchen dealing with crises, worried into a frenzy that things might not go perfectly…it's the surest path to an evening that's not much fun for anyone. Start off with a plan you can easily pull off without stress, buying (or assigning friends to supply) dessert or appetizers, for example, if it helps.
Batching cocktails — i.e. making them by the pitcher/punch bowl rather than shaking to order. That's exactly what I did for the drinks chapter in my book Gourmet Game Night. As with the above maxim for hosts: having the host (or any guest) away from the table for long stretches–say, whipping up a few more Manhattans–can put a distinct crimp in the momentum of game playing. With a pitcher of the night's cocktail in the fridge, you or a guest can quickly top off a couple glasses without holding up the conversation, or the game.
I loved so much in that Conversation chapter, particularly (among tips for creating a setting for scintillating conversation): "when in doubt, be quiet and listen;" and "be a ladylike broad," that is (in a gender-neutral context) civilized and respectful but unafraid to be wisecracking, personal, a bit provocative.
I love having people over, love cooking for friends and family, and am thankfully at ease with most of the moving parts of a dinner party. But various forces conspired to keep me from hosting many in this past year–I managed just a few. Reading this book was not only perfect airplane entertainment, like an armchair DPD experience,  it makes me want to up my dinner party game for 2018. More time sharing great food and beverages with friends. More unplugged time for conversation (and maybe some games!) around the table. More time to share ideas, conspire, imagine and–as the book's subtitle hints, maybe do a bit for saving the world along the way.
Just one quibble. Rico, Brendan…that suggestion you have on page 187 that your dinner guests might be trying to enjoy some coffee cake (while the outraged political junkie is busy being loudly outraged)? That sounds pretty brunchy to me.