Deviled Eggs: Never Out of Style
It's been the case at every party in recent memory that I've been at when deviled eggs are on hand. They're simply a magnet. There may be tons of other great food on hand, but folks spring into action around those eggs…and the plate's usually the first one to be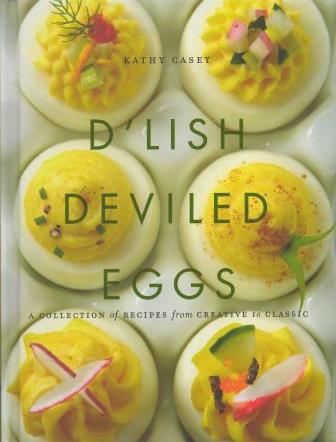 emptied. I'll admit to having a bit of an eagle-eye for them. When someone new arrives at the door and I see the plastic-wrap-topped platter of deviled eggs, I go into cool but focused mode. Walk up to the person, say hi, how nice to see you….and nonchalantly follow them to the table where the platter goes down, the plastic comes off and it's all "oh look, you brought deviled eggs! gee, well, as long as I'm here….."
I tend to be a big fan of old-school treatment with deviled eggs–mustard, mayo, salt, pepper, not a whole lot more. In fact I'd never really given that much thought to variations on the theme, aside from maybe a bit of minced shallot or dash of cayenne, maybe a shrimp on top for something fancy. And then that all changed when my amazingly creative dear friend Kathy Casey came out with her latest book: D'Lish Deviled Eggs
this spring. Now I know better. There's a wide, wide world of possibilities when it comes to this beloved cocktail party food.
I was lucky enough to attend an event recently (an introduction to the interesting new culinary education site Culination, with which she's engaged, it's worth checking out) that coincided with her book's launch, so there were a number of recipes from the book on hand to sample. I think my favorite was the "California Roll" Deviled Egg, the filling embellished with avocado and wasabi, topped with crabmeat, cucumber and flying fish roe. But the Beet'ing Heart Deviled Eggs were certainly the most eye-catching, the whites lightly pickled with liquid from pickled beets, topped with dice beets and green onion.
After having a chance to flip through the book more last week, I've marked a few pages I'm sure to return to before long. Green goddess always gets my attention, which Kathy translates to deviled eggs by adding avocado, garlic and tarragon to the filling and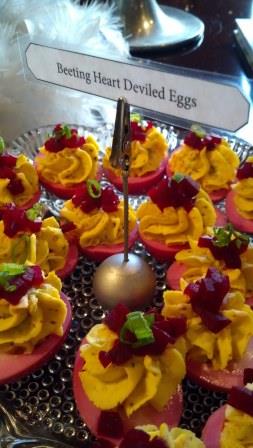 topping the eggs with tarragon and a grinding of black pepper. I also love both the idea of, and the elegant look of, the Boursin Deviled Eggs, with the soft flavorful cheese added to the filling, the eggs topped with a lovely poof of herb salad.
With Kathy in the kitchen, it's not too surprising that cocktail themes crop up! I know how she loves those dirty martinis, which inspire a variation that includes olive brine and Worcestershire sauce in the filling, the eggs garnished with a sort of relish made with chopped pimento-stuffed olive, lemon zest, cocktail onions and parsley with a splash of gin. Then there's the Bloody Mary Deveiled Eggs that sees horseradish, Tabasco, Worcestershire, celery, tomato and a splash of vodka incorporated.
For Thanksgiving last year we were lucky enough to get to sample a recipe while the book was in the works, aptly Pumpkin Pie Deviled Eggs, with pumpkin puree, honey, nutmeg and cinnamon embellishing the filling, which is topped with candied pecans. While I lean more towards the savory versions, this definitely was a fun and interesting twist that proves just how many ways there are to upgrade the simple and beloved deviled egg.
Any fan of deviled eggs definitely needs a copy of Kathy's new book. The trick is that for that next party, you just better whip up with a BIG platter of them! You never know, I might be lurking just around the corner……