It's such a delightful problem to have. More crab than you can eat in one sitting. Friends who have a home on Whidbey Island had had pretty good luck with the crabbing last weekend,  got through as much as their family could consume, then dropped a quick email to see if we'd like to take some off their hands. Next thing you know, we're picking a parking lot to meet in, they handed off 4 Dungeness crab that had been caught-and-cooked the day before. Just kinda how we roll in Seattle….
My husband and I ate about half the crab that evening, very simply. Chilled, in the shell, no dipping sauce, no melted butter, just enjoyed in its pure and natural glory. I sauteed some Swiss chard with lots of onions, whipped up some chickpea "fries" and had quite the meal.
The following night, I was ready for something different. I decided to invest a little time in picking the meat from the remaining 2 1/2 crabs–a bit of a chore, but one of those kitchen tasks for which the time investment pays off in a big way. I'm as big a fan as any of the rhythmic, satisfying, tactile experience of gently cracking the crab shells and extracting the meat. It naturally slows down the pace of the meal, gives you something slightly mechanical to focus some of your attention on, freeing you up for nice conversation with tablemates while digging all the sweet meat out of that next leg or claw…..
BUT. When, on the other hand, you can forgo the crab crackers and those slender little forks for picking meat from the shells and instead just DIG your fork into a big pile of ready-to-eat meat? Yeah, that's a good thing too!
I was thinking of going the route of a Louis- or Cobb-style salad. My husband recalled a green goddess crab combo I'd made a couple weekends earlier for a crab class/lunch up on Whidbey Island. Voila — dinner decided. A mash-up salad with hints of classic Louis and Cobb salads, using green goddess dressing and capped off with a serious mound of Dungeness crab.
T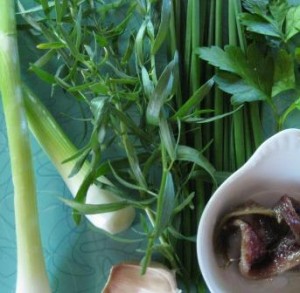 hat class I'd done drew recipes from my Crab
book published a decade ago and not currently in print, but random copies still milling about in the used books pool. It was the first in my series called Northwest Homegrown and while OF COURSE I love all the books in that series, Crab remains one near and dear to me. I had a ton of fun developing recipes with such a spendiferous ingredient. Among my faves was a crab salad sandwich that used a thicker version of green goddess dressing to bind the crab. For the class, I'd prepared essentially the same mixture, but instead of serving it between 2 slices of bread, I scooped small mounds of it onto slices of cucumber and into leaves of Belgian endive, pretty darn tasty finger food!
My mash-up salad this week started with a base of greens–I went with arugula, watercress and sliced Belgian endive. I mixed up a slight variation of the green goddess dressing I'd used in my book (see below). I tossed the greens with a smidge of the dressing, piled them on the plate, then began to mound various ingredients around the sides. Sliced cucumber, hard-cooked eggs, chopped crisp bacon, slices of rich avocado, jewel-like cherry tomatoes. And the crowning glory in the center, an embarrassment of fresh, amazing Dungeness crab. Generous drizzles of dressing over all. I guess the picture pretty much says it all. Was quite a salad! Not a bad way to make use of a little leftover crab from the night before…..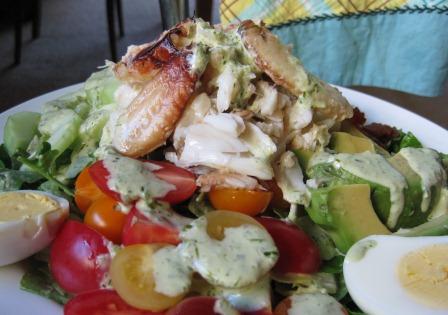 Green Goddess Dressing
2 green onions, chopped
2 tablespoons chopped flat-leaf parsley
2 tablespoons chopped chives
2 teaspoons chopped tarragon
1 anchovy fillet, chopped
1 small clove garlic, pressed or minced
1/2 cup mayonnaise
3 tablespoons tarragon vinegar or white wine vinegar
Salt and freshly ground black pepper
Combine the green onions, parsley, chives, tarragon, anchovy and garlic in a food processor and pulse until finely chopped, scraping down the sides once or twice. Add the mayonnaise and vinegar and continue processing until well blended and delicate green in color. Taste the dressing for seasoning, adding salt and pepper to taste (the anchovy may have contributed enough saltiness but I often find that a pinch more salt is still ideal…..). If possible make the dressing about an hour in advance, cover, and refrigerate to allow the flavors to meld.
Makes about 1 cup