Escape to Bainbridge, with Dinner at Hitchcock
After a particularly hectic, demanding, tiring summer, we were in need of a quick and relaxing get-away late last month. Though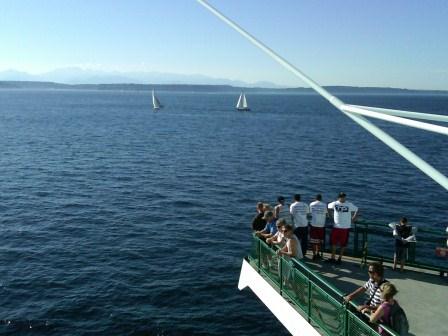 the Seattle-area has loads of regional escape plans that radiate out from the city–Whidbey Island, Walla Walla, the ocean coast, Port Townsend, Hood Canal–I wanted to be unwinding sooner than later, so minimum highway time was a plus. We opted for Bainbridge Island, a quick 30-minute ferry trip from downtown Seattle and though the summertime Friday ferry traffic meant an hours' wait on the dock, at least it was an hour reading and chilling out, not an hour fighting rush-hour on I-5.
My friend, chef and fellow food writer Greg Atkinson, clued us into the top dining spot to check out while on the island (at least, that is, until his own restaurant Marché opens in a few months!). And I was particularly glad to have secured a reservation at Hitchcock when I did, since the week before our visit the Seattle Times had served up a glowing review of the place. We started off the evening joining Greg for a couple of cocktails, me sipping a recent "Hitchcock Martini" made with Tanqueray gin, green chartreuse, and orange bitters. The house martini concoction changes pretty regularly, with seasons and the whims of the folks behind the bar. That one was so good, I had two.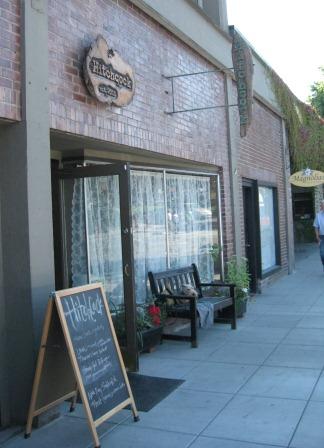 We knew going in we'd surely go with the chef's menu, a great way to sample a range of things, particularly on a first-visit to a new place. The choice was further encouraged by Providence's mention, in her review, of the fact that the chef prefers not to include pasta on the tasting menus. Not that I don't like pasta, I do. But my diabetic husband doesn't eat pasta, so just meant one fewer menu-adjustment to have to worry about.
In the long run, Hitchcock proved to be one of the most accommodating and thoughtful restaurants when it came to tailoring menu to a diabetic diner. Or at least this diabetic diner. My husband was first diagnosed about 15 years ago and — knock on wood — so far he's managing it through diet alone. He's got miles more self-control and conviction about it than I think I could ever muster. Restaurants that help by keeping big doses of carbs off his plate are greatly appreciated.
He's used to some standard hurdles, usually when menus don't disclose quite enough for him to make the best dinner decisions. The unadvertised honey drizzled over a piece of cheese, the sweetened dressing on the salad, the big bed of mashed potatoes under the pork chop. When he knows those things in advance, folks are usually great about swapping in spinach for the potatoes, basic vinaigrette for the sweet one, and might raise an eyebrow when he asks for his cheese plate to come with, really, just the cheese, please–but are happy to comply.
Hitchcock made it easy-breezy. We ordered the tasting menu, chatted briefly with the server, and then the dishes just started to come……
◊ Halfshell oysters, the Baywaters topped with citrus granita, Snow Creeks drizzled with a Banyuls vinegar-pepper-shallot mignonette
◊ Duck liver mousse with grainy mustard, cherry compote (not on Bob's plate), caperberries [me sipping Prosecco]
◊ Pickled mussels on crostini with greens and roasted corn [Saumur]
◊ Radishes with house-cultured butter, Cyprus salt and radish greens (which I'd never had before, really tasty, like slightly fuzzy arugula)
◊ Instead of classic sorbet for intermezzo, we were served a lovely, simple green salad with Big Boy Blue cheese
◊ Grass-fed ribeye steak, mine with panadera potatoes, parsley oil and sherry gastrique; Bob's served on mushrooms and squash instead of potatoes, and omitting the gastrique. [Monastrell tinto 2008]
◊ For the cheese course, I had Petit Basque with honey and almonds, Bob given Manchego with fresh red currents. 
◊ Dessert was a perfect profiterole with hazelnut ice cream and dark chocolate sauce, Bob served another slice of cheese, an aged goat.
It was a wonderful evening, a charming relaxing spot, great flavors and progression in the meal, such untroubled accommodation of Bob's diet. Definitely looking forward to another occasion to dine at Hitchcock before long. It'll be a great excuse to just get to Bainbridge a bit more often (it had easily been 5, 6, maybe 7 years since our last visit).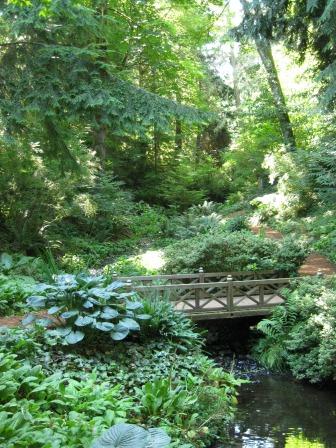 Other highlights from the weekend included a beautifully relaxing and reviving walk through the Bloedel Reserve, a 150-acre mix of natural woodland and landscaped gardens that used to require advance reservation to visit but no longer does. Sunny Saturday lunch on the patio of The Harbour Public House with a million-dollar view over the marina toward Seattle. And I did partly ruin my dinner with an afternoon indulgence of ice cream at Mora, outstanding dark chocolate and raspberry. I took some great long morning walks, breathing in the salty marine air and feeling a world away from the over-packed email inbox, the to-do list and the responsibilities waiting for me back home. Just the weekend we needed it to be.