Austin Impressions: The Community of Food
It's a rather odd phenomenon that occurs when involved in a conference as intensive and engaging as that of the  International Association of Culinary Professionals, which just wrapped up this weekend in Austin. The days are long, from that first sip of coffee each morning, chatting with tablemates before heading to the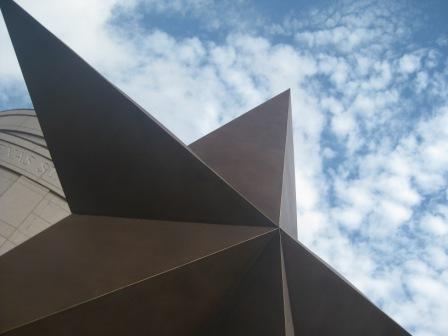 day's first session, to the inevitable last glass of wine/martini/beer before calling it a night after a full and fruitful day. I know I'm not the only who feels a time warp set in, you start telling a friend about the pulled pork you had at that restaurant, when was it? a few nights ago I think, wait, no, what day is it again? Friday? oh, yeah, it was just last night.
I figure it's a good sign when every day feels like three, and by the end of the week you start feeling like you've been gone nearly a month. It means we're doing our jobs, packing the most we can into the precious handful of days we have to share together, this organization of food professionals that otherwise is scattered throughout the world's time zones the rest of the year.
Austin really threw its arms open wide to welcome us all to town, helped us relax, unwind, and kick back. While certainly some folks slipped off to slightly more upscale spots such as Uchiko and Fonda San Miguel (where I had phenomenal meals last summer), even more were touring local food trucks, hitting barbecue joints, rolling up their sleeves and digging into the down-home food culture of Austin. It seemed to become an unintended theme running through the conference, even in some of the workshops. Don't worry so much, give yourself a break, take it easy. Jacques Pépin delighted a room full of attendees with not only his disarming charm and ease in his demonstration (savory cheesecake, skillet apple charlotte, chicken breasts with tapenade), but gave us permission to just not sweat the small stuff. One attendee asked the venerable chef and teacher what he thought of culinary terms being mis-appropriated for dishes, her example being aïoli. By definition aïoli, native to southern France, is a garlic mayonnaise, but many chefs today whip up aïoli that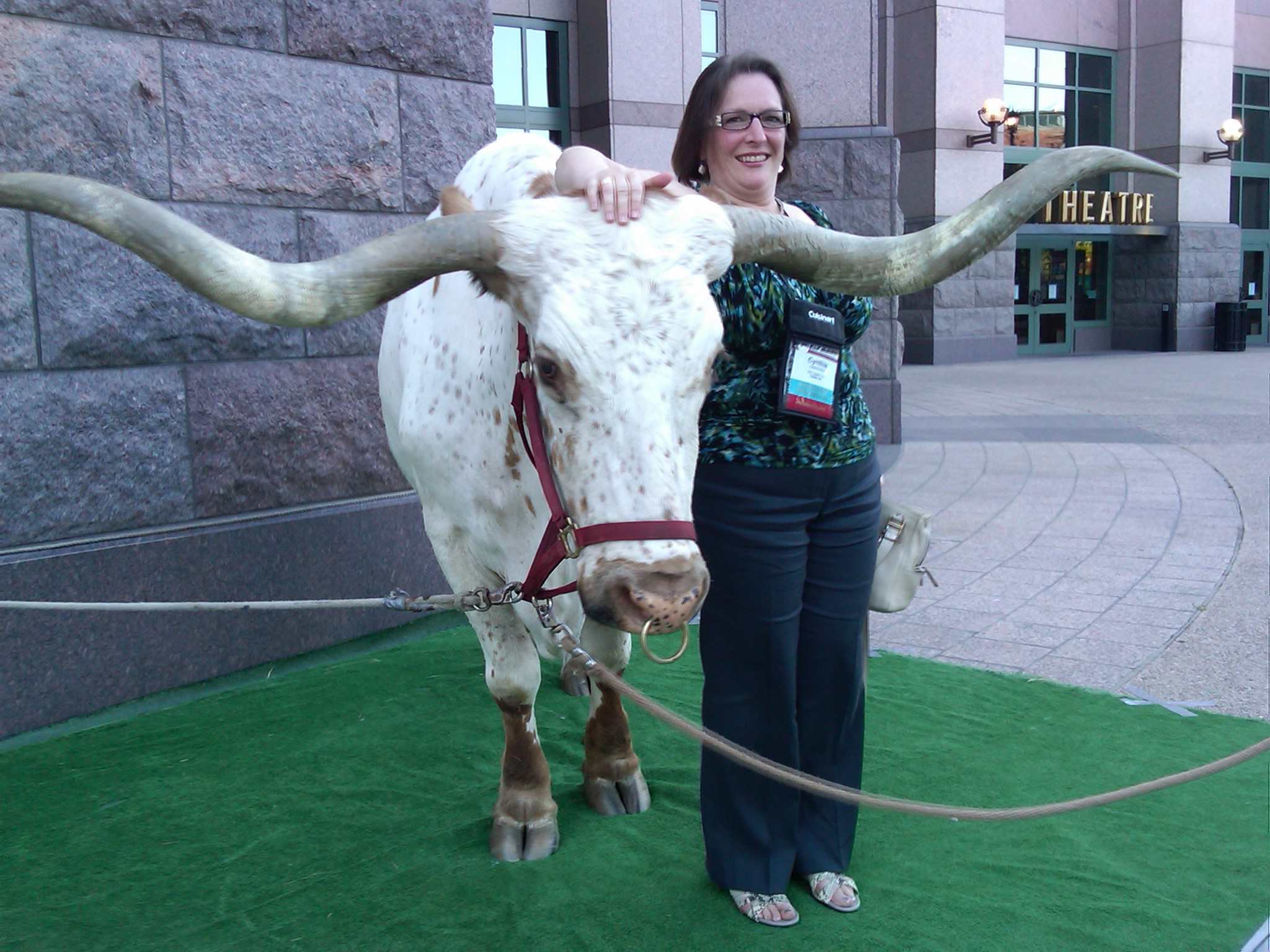 might have herbs, lemon, roasted peppers but not a speck of garlic. "Can it still be called aïoli?" she wondered aloud, seemingly wondering, too, if we all shouldn't be better gatekeepers of precision in such matters. Jacques just shrugged and in the kindest way possible simply said that he didn't care, that if they wanted to call it aïoli it was fine with him. And he continued on with chopping olives and capers for the tapenade.
Monsieur Pépin surprised us all–rather pleasantly in most cases, I'm sure–with that unaffected, nonchalant response. A longtime IACP pal came up to me later and said "maybe there's hope for us all," noting the simple but substantive lesson to be learned from  not taking every little detail of life–and food–too seriously.
We got a similar dose of wisdom from the inimitable Shirley Corriher during her highly entertaining and educational baking demonstration. Nothings seems to really ruffle her feathers much at all. Very no-nonsense, down to earth. One of the most-tweeted quotes I saw from the conference was her response to an attendee who asked if she was concerned about the trans-fats in vegetable shortening, if she'd tried the new trans-fat-free versions. All Shirley had to say to that was, "if you're worried about the trans fats, just use lard." The audience roared. And we all gained a bit of perspective. So, too, from the amazing and wonderful Penny de los Santos, photographer and story teller who gave us all goosebumps one morning, letting us inside her process of approaching a subject with camera in hand. "Just forget about the f-stop," she said, a universal response to those distracted by the details of the machine in their hands. She reminded us all it's about what's on the other side of the camera that matters, not the mechanics we employ in the shooting.
That's going to be my new mantra in life. Don't sweat the garlic-less aïoli. Dig into the lard when trans-fats have you down. Focus on what's in front of you. Just go with what feels right, it's not rocket science, we're not risking jail time or deforestation, it's just about good food. Enjoy what makes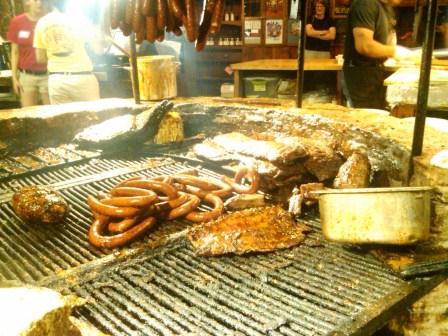 you happy and avoid what doesn't. I'm repeating that every morning from here on out.
It made the long week a bit longer, but I'm eternally grateful for my decision to head to Texas early for a couple days of pre-conference R&R. A friend and I headed out to Fredericksburg for the chance to explore  a bit before getting down to business. En route from the airport we made a pilgrimage to Salt Lick BBQ out in Driftwood, a wide spot in the road west of Austin. Man alive, I have never seen such a production around a restaurant before, you'd have thought we were driving into a major county fair or something, the sheriff was even on hand to direct traffic and keep things moving. Huge numbers of folks outside under the grand live oak trees for the obligatory 1-hour wait on this Saturday night. It's a BYO spot, groups carting around their coolers full of whatever suits their fancy (ours had local beer, real [cane sugar] Dr. Pepper in bottles, water). And of course, some live music to help while away the time. Dinner was perfectly simple, perfectly delicious and a great welcome-to-Austin stop. We opted for the choice-of-3 combo plate, I went for brisket, turkey and ribs. Turkey? you wonder. You bet, tender, juicy and just packed with flavor.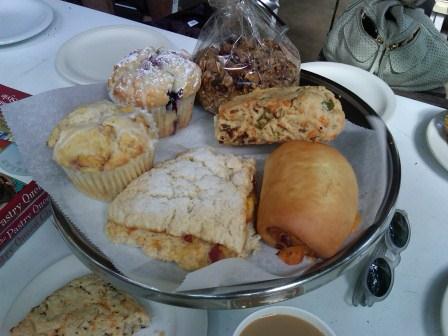 Couldn't visit Fredericksburg without a trip to Rather Sweet Bakery in the center of town, just off Main Street. I met Rebecca Rather five or six years ago at another IACP conference, and the co-author she's worked on 3 cookbooks with is a friend from Seattle, Alison Oresman. Ends up Alison was in town too, as were Cathy Whims and David West, owners of Nostrana in Portland. The seven of us practiced the art of lingering over breakfast on the patio at Rather Sweet, nibbling on fresh-peach scones and muffins, bacon and cheese scones, housemade granola, much more than we could finish. It was some delightful calm before the inspiring storm of conference activity that was soon to begin.
I didn't hit restaurants in town all that hard once the proceedings got underway. Actually, in many respects I didn't have to since so many top restaurants were represented at events held throughout the week. Opening reception at the Bob Bullock Museum, a fundraiser that night held at the glorious Hotel St Cecilia, the barbecue closing night held on the lovely property of Boggy Creek Farm–all had outstanding representation by Austin area chefs. I did, however, manage to head out for a couple of great meals. La Condesa was home to a board of directors gathering on Tuesday evening, an amazing dinner served family-style that included crab tostadas and huitlacoche huaraches, Mexican-style street corn, carne asada, and an amazing dark chocolate tart with honey-popped amaranth. A couple nights later (or was it a week later? the blur if it all….!) it was another lively dinner with a different bunch of colleagues at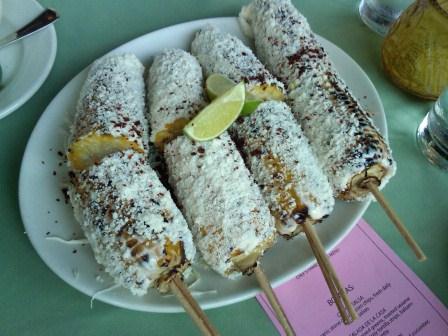 Second Bar & Kitchen where Executive Chef David Bull did us the favor of letting us sit back and just enjoy what he wanted to cook up. Platters of cheeses and cured meats began things off, then corn gazpacho, "bacon and eggs" (which I liken to a totally upscale salade lyonnaise), braised short rib, so many good things……
So, I spent a month in Austin last week and had truly a grand, inspiring, uplifting, delicious, fun time. Oh, and a tiring one, too, but it was a week of losing sleep for a good cause. After a couple more days catching up, it's off to tackle a year of leading this wonderful organization that means so much to me, working with and for a group of food professionals that I respect and adore greatly. Never does the community of food show its impact so boldly as when we as colleagues gather to share meals, experiences, ideas and encouragement. I came home with a plate full of great memories and new energies I'll be feeding from for months to come.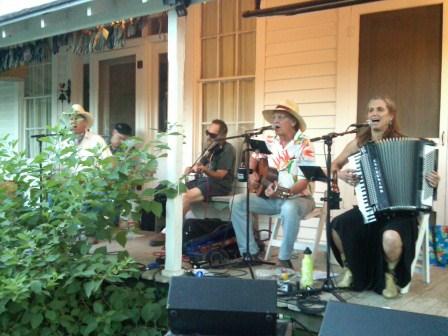 3 Comments for this entry
1 Trackback or Pingback for this entry