On the Road: New York City

Lucky me. I seem to hit New York City at its most memorable extremes. My previous trip was February 2007 and there was a blizzard. I was wearing heavy boots, dressing in layers and leaping over mountains of snow at each curbside. On this recent trip, by contrast, I was treated to a heatwave, 95 degrees at least during my last couple of days in the city, and you can add about 10 degrees thanks to radiating heat from the buildings and streets. I was seriously looking forward to returning to Seattle's October-in-June weather. The Seattle Times homepage welcomed me home last week with a headline that noted Seattle's temperatures as lower than those in Siberia.
Enough about the weather. My 5 days in the Big Apple were great, nonetheless. The original reason was to attend the red-carpet-and-black-tie James Beard Foundation Awards last Sunday night. The ceremony and following food fest were held at Avery Fisher Hall at Lincoln Center. Lots of wow power just with the venue, and that's before you consider all the luminaries around you: from uber-chef Thomas Keller to the doyenne of cookbook editors Judith Jones. MCing the awards was the food world's Bobby Flay and the celeb world's Kim Catrall. The Beard web site has all the details of the winners, but of particular interest to me were Holly Johnson's award for best chef in the Northwest (well-deserved and long overdue) and the fact that Tom Douglas did not win (yet) for best restaurateur in the country. I hope soon to say "well deserved and long overdue" about him winning that honor as well.
I don't have the stamina that I used to when it comes to eating marathons on trips like this. The extreme heat certainly didn't help. Lots of my food friends who were also in town were hitting top spots for lunch, checking out two or three others for a progressive dinner, with wee-hour nibbles at yet another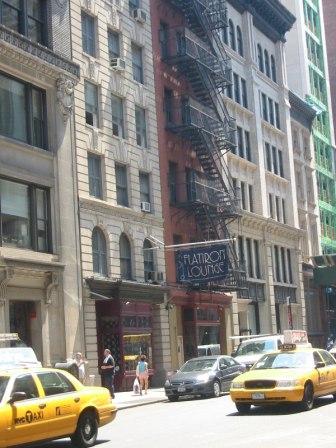 must-go or two. A couple places folks raved about were Prune and Eleven Madison Park (the latter I went to on that blizzardy trip last year, it was out of this world). The one "hot-spot" I went to with a group of friends was WD-50, one of the more avant-guard restaurants in town. Interesting, but it didn't float my boat. A favorite bar stop from last year's trip was the Flatiron Lounge, which I only got to walk by pre-cocktail hour this trip.
My welcome-to-New-York dinner the first night (with longtime pal and best drinking buddy Jack Robertiello) was at 81, the new restaurant opened by Ed Brown. He'd long been the chef at SeaGrill in Rockefeller Center, I know him from way back in Simply Seafood days. Really great meal, loved the pea and fava bean soup, served with a crab fritter. I know he can cook fish like a dream (Jack was impressed with his cod entree) but I opted for the lamb, served with favas, artichokes, braised greens, fiddlehead ferns. Really outstanding. Great start to the visit.
At the other end of the culinary spectrum, another pilgrimage was to Artichoke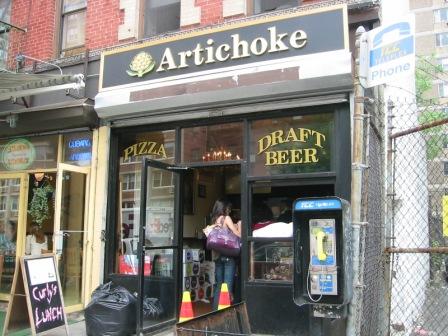 Basille's Pizza & Brewery on East 14th, which I learned about thanks to my New York Magazine subscription. Lines are a regular thing here, not only because the place is so popular, but because it's so small: room enough for maybe six salivating patrons in the tiny space, the rest spilling out onto the street. While I was at the end of the line, a local asked me "what's up with this place, last night the line was all the way down the sidewalk," she said, waving her arm up toward 2nd Avenue. Feeling suddenly the insider, I told her that I knew their pizzas to be outstanding. I took my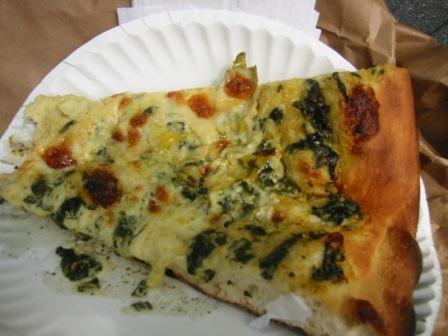 large slice of their signature artichoke (it's a very simple operation, just a couple of options available) to a park bench in Union Square and had a perfect Manhattan lunch, complete with repose from the heat and plenty of people-watching.
 There is so much more to tell about that trip, but I'll save other tidbits for another time. Just can't pass up this last shot, however. I was early for a lunch appointment in the West Village and slipped into The Grey Dog's Coffee on Carmine Street for an obligatory iced coffee (a wonderful hang-out and casual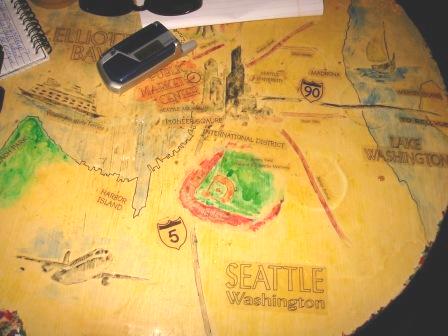 lunch spot). I was checking email, making notes, etc., barely noticing the tabletop. At first, when I thought I saw something familiar out the corner of my eye, I figured it was brain-fry from the heat making me see things. But I cleared away my phone, notepad and map to find that I'd chosen the Seattle table, complete with Boeing jet and sailboats on Lake Washington. It was almost like a cool Puget Sound breeze on an incredibly hot New York day. It's a great city to visit, New York. But I'm very happy to be home.
2 Trackbacks / Pingbacks for this entry