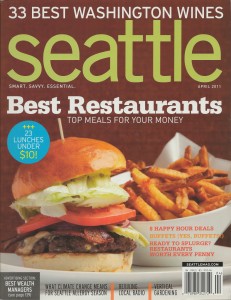 I was incredibly fortunate to have landed my first magazine job at Simply Seafood magazine, which truly was a matter of being in the right place at the right time. I had no experience on the production side of magazines. But my recent culinary degree and my learn-by-doing habit combined to make that 6-year stint an incredibly rewarding and instructive one.
When Simply Seafood folded, I become food editor at Seattle magazine. I moved from a national publication of niche interest to a vibrant general-interest magazine in a region that loves great food. This was another wonderful job that allowed me to really sink my teeth into (sorry, couldn't resist) the food scene in my hometown. I covered new restaurants and what chefs were up to, the ever-popular "cheap eats" articles and "best restaurant" round-ups. I also got to write about the ubiquitous apple, cool chicken coops that Seattleites have in their backyards (this blog post about which is among my top ten viewed of all time) and trailblazers like Hajime Sato who has gone all-sustainable with his popular sushi restaurant in West Seattle. Though no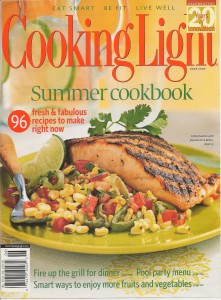 longer food editor, I still write for Seattle (including this recent article about the current oyster book and ocean acidification, and this article about pros and cons of GMO labeling) and love retaining that contact with my hometown eats.
I have done recipe development for magazines such as Coastal Living, my most recent contribution these mussel recipes from an early 2015 article. I also contribute to Cooking Light, that's my salmon recipe on the cover a few years ago!  On the travel side of things am a frequent contributor to Alaska Airlines and Horizon Airlines magazines, a recent piece on dining in Alaska in this issue. My work also appears in publications such as Sunset, Coastal Living (check out these tuna recipes I developed) and others. I was a contributing editor for years at the trade publication Cheers, which helped develop my love of cocktails (gin in particular, about which I write and speak with the greatest passion of all spirits). As a lifelong Seattleite, much of my writing relates to subjects rooted in the Northwest. But I've also written about tequila at the Cuervo Family distillery in Mexico for the Underground Wine Journal, French spa cuisine for Spa magazine and I won a Society of Professional Journalists award for my profile of Mario Batali in Alaska Airlines magazine a few years ago.