In addition to traditional consumer publications, I also channel my writing, editing and recipe work toward a range of unique projects as a consultant. I'm on hand to provide any number of services in this realm, from recipe development to editing to project-managing production of a cookbook. Please see this page for a complete overview of my editorial services offerings. These are just a few examples of consulting projects I've done in recent years.
I was wildly honored to be among the team of writers working on a book that's captured the attention of the food world over the past couple of years, Modernist Cuisine. I'd met author Nathan Myhrvold a few years back through an unusual connect that led back to La Varenne (you can read more about that here). I was also asked to write content for the more recent The Photography of Modernist Cuisine, another fascinating project. Beyond working on those outrageously detailed, insightful, ground-breaking books, I was also asked to be his side-kick for an episode of Gourmet's Diary of a Foodie, the clip for which you can see here. Modernist Cuisine has gained loads of accolades since being released spring of 2011, including major awards from IACP and the James Beard Foundation.
In recent years I was also very involved in the production of books for the Celebrated Chefs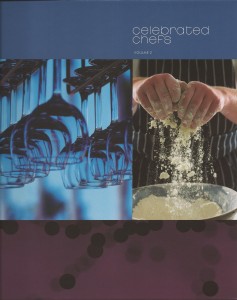 program. This unique program (which has since been integrated with the GoodDining program) allowed non-profit organizations to add much-needed money to their coffers by way of money their supporters were already spending at local restaurants. As part of the program, each member was given a hard-cover, full-color cookbook as a calling card for the participating restaurants, each of which contributed a recipe to the book. I served as editorial director, helping hone the list of recipes included, editing, and overseeing recipe testing, editorial content and other aspects of bringing those books to life.
Among projects beyond books, I have consulted with fruit grower/wholesaler Domex Superfresh Growers, developing flavor profiles and pairing ideas to help consumers better understand distinctions between different apple varieties. I also develop recipes for them on occasion, to help showcase their fruit in a variety of delicious preparations.