Books have been the largest platform for my work in these first couple of decades. And books will surely always be in the picture! But there are other outlets to which I apply my writing and editing skills, my love of creating recipes, the drive to satisfy my culinary curiosity  and the fascination I hold for the story behind the foods we cook and enjoy.
Magazines
The magazine world is where I launched my newly-minted career once I'd finished studies and work at La Varenne. When I was finally ready to leave France, I landed back home in Seattle to find that a new magazine in town was looking for a food editor. My time at Simply Seafood magazine–eventually as managing editor–was rich, rewarding, educational, fascinating. I traveled to countless seafood-loving destinations from Alaska to Florida (and even found amazing seafood in the Rocky Mountains).  I interviewed Julia Child and the Frugal Gourmet (Jeff Smith). I worked with great writers the likes of Joan Nathan and Kathy Casey. I thought this food writing gig was pretty cool in those first few years. And that's hardly changed since.
Editorial Consulting
Over the years, consulting has become a larger and larger slice of my career pie. It began with projects to serve as a consulting editor on cookbooks, such as the Alaska Heritage Seafood Cookbook
 and Pasta & Co. Encore
, helping polish the recipes, hone the material and generally working to ensure the content is focused and engaging. Other consulting projects have included recipe development (both for editorial and commercial uses), writing, editing, co-authoring books to help bring someone's project to life, writing book proposals, a wide range of activities in the realm of recipes and food-related editorial content.
Digital
It's a newer platform in the world of publishing, but in the last couple of years more of my work has been appearing in the digital sphere — to complement all the material I've produced in the tangible printed form. Among most recent online projects are cooking classes I've done for Craftsy.com and publishing a series of ecookbooks featuring iconic Northwest foods.
Teaching & Speaking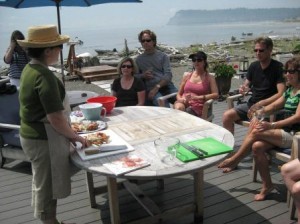 Teaching and speaking are two other aspects of my career that have grown naturally out of the work that I do. Teaching can touch on any number of subjects, from Northwest cuisine, French cuisine, a recent cookbook theme or really any number of technique- or ingredient-based topics. I've taught for Sur La Table, In Good Taste, Bayview Cooking School, Dish It Up, and I've even taught classes as on-board talent aboard a Holland America cruise.
For speaking engagements, my subjects is often Northwest food traditions, which I never tire of learning more about and sharing with others. Did you know the modern maraschino cherry has ties to Oregon State University? Or that the Dungeness crab was named after a spit of land on the Strait of Juan de Fuca in Washington state? Audiences I've shared these Northwest stories with include attendees of the International Food Editorial Council conference held  in Seattle, and general public as part of a series put on by REI. But I've also moderated a panels on two of my favorite subjects–gin and crab–for the International Association of Culinary Professionals. And who knows where I'll next pop up with something to say about something delicious!