I think of teaching and speaking as two avenues that provide me some of the greatest gratification at this point of my career: sharing the knowledge and experience I've accumulated over the years.

Topics of classes that I teach can touch on any number of subjects, from Northwest cuisine, French cuisine, a recent cookbook theme, or any number of technique- or ingredient-based topics. I've taught for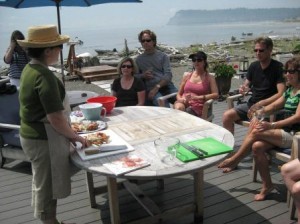 Sur La Table, In Good Taste, Bayview Cooking School, Dish It Up, and I have taught classes as on-board talent aboard a Holland America cruise.
I have also joined the ranks of some talented colleagues in the world of online teaching. Through the wonderful, dynamic platform of Craftsy, I first created a cooking class called "French Home Cooking: The Essential Techniques" (that link give you a discount on the class.) It features over 2 1/2 hours of instruction, walking through many basic, core techniques that open a whole world of creative and delicious possibilities in the kitchen. Among recipes featured are cheese soufflé, fish chowder, beef & mushroom stew and luscious vanilla-bean ice cream.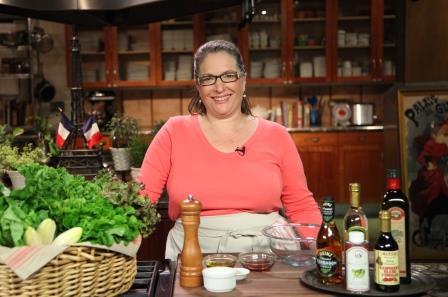 My second class "Homemade Salty Snacks" was released a few months after the first, and goes into that realm I love enough to have written a cookbook on the subject as well! It takes students from quick and easy popcorn and toasted nuts to homemade soft pretzels, with plenty of other savory treats in between (crackers, chips, bread sticks and more).
When it comes to speaking engagements, my subjects is often Northwest food traditions, which I never tire of learning more about and sharing with others. Did you know the modern maraschino cherry has ties to Oregon State University? Or that the Dungeness crab was named after a spit of land on the Strait of Juan de Fuca in Washington state? How about the story behind that oddball cheese-in-a-can Cougar Gold? Audiences I've shared these Northwest stories with include attendees of the International Food Editorial Council conference held in Seattle, and general public as part of a series put on by REI. But I've also moderated a panels on two of my favorite subjects–gin and crab–for the International Association of Culinary Professionals. And spoke about recipe writing for the Food & Culinary Professionals practice group of the Academy of Nutrition and Dietetics (formerly the American Dietetic Association).

Who knows where I'll next pop up with something to say about the next delicious theme. I relish each and every chance to share my expertise with and enthusiasm for food, cooking and culinary culture.