I fell in love with endive while at cooking school in France, one of many ingredients I'd had little interaction with before embarking on that adventure. Among salad greens, endive has a bit more character and flavor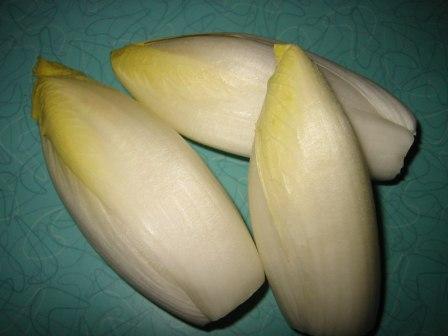 than everyday lettuce, not as bitter as radicchio, and is more versatile than many other greens. As I mentioned in this post, one of the fail-safe dinners in my tiny Paris apartment, with its two-burner kitchen, was sautéed endive with rotisserie chicken from the neighborhood butcher.
And a favorite traditional bistro prep with endive is going to be dinner here soon. Heads of endive (baked or steamed first, until tender) are wrapped in good sliced ham, arranged in a gratin dish and topped with a rich béchamel sauce that's embellished with a good dose of grated Gruyere cheese. Boy, does that sound delicious right about now!
My all-time favorite salad is composed of sliced endive, toasted walnuts, crumbled blue cheese tossed with a vinaigrette made with red wine vinegar and walnut oil. I swear, I could eat that every night and not tire of the delicious combination.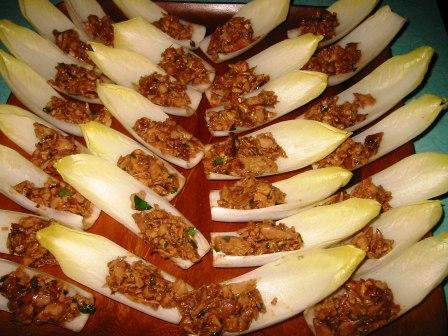 Another beautiful thing about endive is that it's one of the very best edible serving pieces. Having friends over for some game-playing? Consider a clean-fingers menu item served in whole endive leaves. Spoon some shrimp with Louie dressing, crab with cocktail sauce, chicken-tarragon salad or other tasty mixture into the broad end of the leaf. Guests can pick up the leaf by the tapered end and enjoy the treat without dirtying their fingers. This past weekend I did just that for a cocktail snack, using leftover roasted duck from the night before. I added some hoisin sauce, soy sauce, chopped cilantro, sesame oil and a splash of sake. It was a big hit. Endive to the rescue, yet again.