A Most Elegant Rice Pudding
I've had this rice pudding recipe on my brain since a September trip to France, during which dinner one night in Paris included a dessert of riz au lait with a salted caramel sauce. Egad, it was amazingly delicious and reminded me of a recipe from many cookbooks ago: Jim Drohman's Gâteau de Riz from his beloved French bistro Le Pichet, which was included in the Best Places Seattle Cookbook I worked on. Seriously, every few days I was saying to myself, you have GOT to make that recipe again–though I hadn't prepared it in years, how delicious it was remained clear in my memory.
So finally, I got my priorities straight and made Jim's glorious rice pudding again. The rice is cooked in milk stove-top, slowly and stirred frequently, to create a lush porridge of the cooked rice. Embellished with vanilla (preferably in bean form) and enriched with eggs, the mixture bakes in a caramel-lined loaf pan, creating a luscious nutty-caramel surface when the rice pudding is unmolded. What do you think…sounds pretty good, doesn't it?
The recipe in the cookbook included a plum compote (chopped plums simmered with sugar, lemon juice, and star anise, a splash of brandy stirred in before serving), which I didn't make this time around because I'd been gifted some homemade red plum jam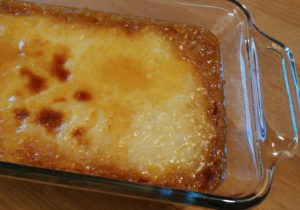 by a friend, which was perfect. Something a little sweet, but with a touch of tang to complement the pudding's richness, is an ideal accompaniment. Though a drizzle of heavy cream, clearly gilding the lily, is a perfectly respectable option as well.
The "grand-mère" reference here is just the classic French term for deliciously old-fashioned. As I wrote in the headnote for this recipe in the cookbook, Jim's grandmother wasn't the source, instead a grandmotherly woman who was his concierge when he lived in Paris. It may be old-fashioned and a bit rustic, but this dessert is one of my all-time favorites. I surely won't let as much time go by before recreating this again.
Gâteau de Riz Façon Grand-Mère (from Le Pichet, adapted from Best Places Seattle Cookbook)
1 cup sugar
6 tablespoons water
5 cups whole milk
1 vanilla bean or 2 teaspoons pure vanilla extract
1/2 cup long-grain white rice
2 large eggs
Heavy cream, for serving
Combine 1/2 cup of the sugar and 3 tablespoons of the water in a small saucepan and cook over medium heat, stirring occasionally, until the sugar dissolves, 1 to 2 minutes. Increase the heat to medium-high and continue cooking, without stirring, until the mixture reaches a deep caramel color, 7 to 10 minutes. T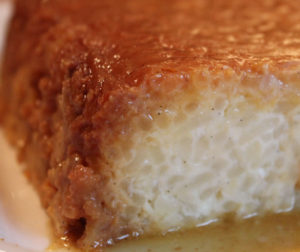 ake the pan from the heat and gradually add the remaining 3 tablespoons of water, stirring carefully, to stop the cooking process. Pour the caramel into a 5- by 9-inch loaf pan (preferably glass), and set aside to cool.
Preheat the oven to 450F and position the rack in the lower third of the oven.
Put the milk in a medium saucepan. If using a vanilla bean, split it lengthwise and add it to the milk (vanilla extract will be used later). Heat the milk over medium-high heat until it just begins to boil. Stir in the rice, reduce the heat to medium-low and simmer, uncovered, stirring occasionally until the rice is tender and the mixture has the consistency of a thick porridge, 40 to 45 minutes. Toward the end, you may need to stir more constantly to avoid risk of sticking.
Take the pan from the heat and lift out the vanilla bean halves, if using, running your fingers down their length to scrape out the seeds, adding them to the pan. Whisk together the eggs and remaining 1/2 cup of sugar in a small bowl until pale yellow, about 1 minute. Whisk in the vanilla extract, if using. Add the eggs to the rice, quickly and gently stirring until well combined. Carefully pour the rice mixture into the prepared loaf pan. Bake until the rice pudding is set and the caramel is bubbling up around the sides of the pudding, about 15 minutes. Let the rice pudding cool for a few minutes, then cover and refrigerate until chilled, 2 to 3 hours (or overnight).
To serve, run a knife around the edges of the loaf pan and invert the rice pudding onto a rimmed platter or plate. Cut the rice pudding into thick slices and arrange on individual plates, pouring some cream around the edge of each.
Makes 8 servings