So there I was in Paris for a month earlier this year, living la belle vie, nothing but time to wander, read, eat,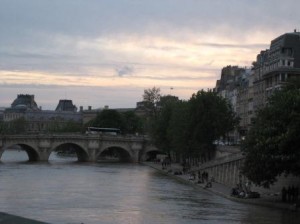 write, ponder, drink, consider, explore. It was glorious, as you can imagine. Unseasonably cool and quite wet weather didn't dampen the experience. I made a number of blog posts, far more than a typical month for me. I wrote and wrote and wrote, tens of thousands of words, though no idea what will come of it all. Had some hyper-active days walking across Paris and back, others super lazy when I never left the apartment. All in all a delightful escapade.
Then: bam!
Back home to Seattle and welcome back to reality. La belle vie quickly becomes la vie quotidienne when that get-away euphoria wears off and we return to the routines of our days, the juggling and chores and familiar motions of our lives. Within a week or two it felt like the trip was months and months ago, so distant the experience. Paris slipped back into the memory box, like a wonderful dream of a sort.
But a friend's recent request for input from Paris-oriented pals to plan her own upcoming trip gave me an excuse to revisit that month. Take a moment to force the noise of daily routine out of my mind for a bit, review the copious notes I took while there and come up with a list of the top hits/favorite moments from my time there this May.
So I sit here with Paris on my mind once again to come up with the condensed-version highlights. There might be an item or two of overlap from those posts I made on-site. But this generally hits the high points from my time there.
Meals
I intentionally avoided la haute gastronomie this trip, I've had more than my share of *** meals in France in years past and at this point in my life have come to realize I just honestly prefer more casual dining experiences. Plus, I could eat for a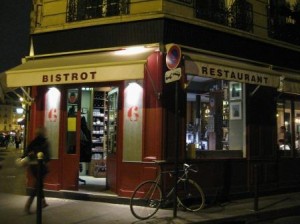 week on what one multi-star meal might cost. Some of my favorite meals were mâche and radish salads or baked eggs with spring onions in the apartment, cheese, nuts, bread, nibbling. But of the meals out here are a few favorites:
Lunch at Albion was a favorite, casual with a small, interesting menu, doubles as a wine shop too, special knack with fish. Roasted foie gras in haddock broth. Yes, so very good. The chocolate soup for dessert was my first introduction to tonka beans. My sister's dessert was basil panna cotta with a kalamata olive caramel. Wow.
My favorite dinner was probably at Le 6 Paul Bert, a new sibling to the classic Bistrot Paul Bert on same street. Later had dinner at the latter and I much preferred Le 6. A casual, mod décor, open kitchen, lively, engaging. Menu has no distinction between starters & mains, order 2 or 3 things and make up your own meal. Seared scallops in mushroom broth, daurade with white asparagus, yogurt ice cream with strawberries and rhubarb.
Philou was another great meal, old-school chalkboard menu but place has a modern vibe. Affordable 30€ 3-course menu. Razor clams with leek gratin, onglet, roasted daurade, simple fruit soup for dessert.
Solo lunch at Le Rubis was a true highlight, not to mention a step back in time. Seems un-Paris and thoroughly un-21st-century. Shepherded up funky little staircase behind the bar to upstairs dining room, great no-frills meal, lentils, sausage, half bottle (one that's often refilled from bulk supply) of Beaujolais. I was in heaven!
More traditional bistro fare but pure delight was at Le Régalade (a few locations, we went to St Honoré). Super nice folks, classic feel, bustling, relaxed….. every meal starts with the house terrine plopped in the middle of the table for nibbling on while you figure out dinner.  White asparagus with poached egg & herbs, roasted lamb shoulder with chanterelles, strawberry millefeuille. Classic and wonderful.
Drinks
Had a great list of some top cocktail spots to possibly hit in town, though only made it to a few of them. More for next trip, I guess. Just wasn't that into bar-hopping solo….. Among those I didn't get to include Le Bar Coq, Le Mary Celeste, Experimental Cocktail Club. If you get to, or have been to, any of them please pass along your impressions!
Loved Prescription Cocktail Club, pretty unassuming from the street (rue Mazarine in the St. Germain area), as is another favorite spot a few doors down, 21 rue Mazarine, an outstanding low-key seafood restaurant. This cocktail bar takes that hip-retro theme and runs with it. We were in pretty early, was more my speed then, clearly gets to be a bit scenester as hours pass. My 'Out Cider' was great, tonka bean inflused Calvados, lemon, small splash of Champagne.
Also really enjoyed Candelaria, which you arrive at oddly by walking through a tiny taco place around the corner, pass along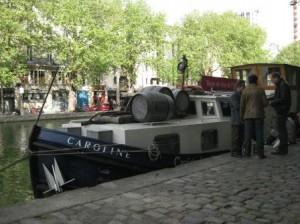 the counter, through the unmarked door at the back into a passage that leads to the bar. The bar's got windows out onto the street but can't enter from there. True to my nature at this age, I was there early, in fact the first and only in the place for the first 15 minutes or so. Got to chat with the bartender a bit, and talk gin (my favorite subject). I'd seen Monkey 47 gin (from Germany) in a number of bars and shops but hadn't tried it yet. He gave me a sample and it's not my favorite, a bit of a heavy flavor profile, seemed a tad sweet. Had another of their gin cocktails instead. Did try the taqueria pre-cocktail but didn't really love it. Next time I think I'll just slip on through to the bar.
Other Tasty Things
After being introduced to Tonka beans at Albion (as part of my chocolate soup for dessert), I was on the look-out and searching for spice shops. Which lead me to the happy discovery of Epices Roellinger not far from the Palais Royale. I knew of M. Roellinger from an incredibly memorable Christmas trip to Brittany when we stayed at his Les Rimains inn for a few nights. He's long had a passion for spices, manifest here in the form of a phenomenal boutique dedicated to them. Even a "vanilla cave" (though really just a section at the back of the room) devoted to vanilla beans from a dozen or more spots around the globe. GO!!
I stopped in Jacques Genin a few different times, a top confectioner that very luckily was just a few blocks from my apartment. Caramels there, just so very good, nougat too. Didn't try the fruit gels and other confections. But DID have lunch there one day. Nothing savory on the menu, my sister and I instead each had a luxurious millefeuille for lunch, me praline (here's a close-up) and her vanilla. Great to pick up a treat to go or sit in the salon for a bite.
I was on a serious Paris Brest kick that month, had 4 or 5 or 6 variations over the weeks. A (usually) round ring of choux pastry, split and filled with a rich praline filling (reminiscent of a bicycle wheel, named for a famous bike race from Paris to Brest in Brittany). This was my favorite, at the sleek Sebastien Godard pastry shop on rue des Martyrs below Montmartre. Cost a bundle but was outstanding.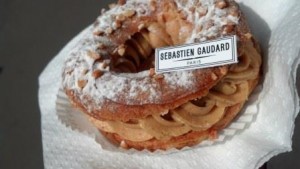 Most food lovers make a stop at the food section of Le Bon Marché (officially called La Grande Epicerie de Paris), I tend to pop in most trips as much to just ogle as to stock up on anything. Not unlike those pilgrimages to the food court at Harrods, though with a completely different personality. New this visit was a huge hole in the floor where they'd cut through to put in a stairway down to the new wine & spirits section. Which leaves more room upstairs for glorious displays of pastry, seafood, cheese, spices, teas & coffees, condiments from around the world, loads of delicious stuff.
Crafty
I wasn't really on the crafty bandwagon when I spent lots of time in Paris decades past. But having become a mad knitter since then, put some craft spots on my agenda for this visit.
Just a couple blocks from where I stayed was Entrée des Fournisseurs, a really charming shop in a courtyard off one of the main Le Marais streets. Not huge but packed with cool notions and fabrics and patterns, some yarn too I recall. Especially strong in the bottons/ribbons/etc. department.
In searching for yarn shops, came across La Droguerie only to find when I arrived that I'd surely walked by the places dozens of times over the years. It's just around the corner from Dehilleran (the most famous cookware shop in the city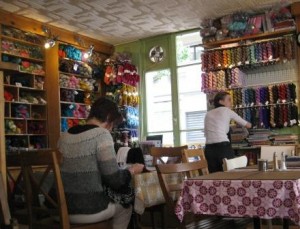 which I managed to NOT spend a fortune in this trip), near Les Halles in the center of town. Bought some interesting linen yarn and trying to finish a top from a pattern I bought there. Knitting in French, it's a new skill for me!
Lastly, a friend's recommendation led me to an outer neighborhood near Place d'Italie and the great yarn shop l'Oisive Thé which doubles as a tea salon with a light menu. A couple nights a week that have a knitting group, I went to one of their Monday night gatherings, which was small and friendly. Thursday pack the house it sounds like. Was a mix of French and ex-pat folks, enjoyed some social time and knitting, which I really was NOT picking up at the apartment for whatever reason. More focused on writing and reading there, not too conducive to multi-tasking with some knitting needles.
 Neighborhood
I loved being in Le Marais with its network of streets with cool shops and restaurants, proximity to Canal St Martin & that surrounding area (10th/11th arrondissements) which seemed to pop up on most hit lists for Paris that I'd been finding in magazines and on web sites leading up to my trip. It was a completely different slice of Paris from my usual stomping grounds on the Left Bank; one day walking along the canal there was a boat tied up doing a wine tasting (photo above), a floating tasting room. Loved that. Walking home came across this impromptu street concert. Random & quirky. Was just the prefect home for my Paris refuge this spring.