Dark and Stormy: Ginger, meet Rum
I guess it's a twist on turning lemons into lemonade, but in this case it was a matter of turning ginger into ginger syrup. I'd done a photo shoot recently for an ebook project that I'll tell you more about soon. I over-bought some items needed for the recipes, considering that they might make for good prop items to use in the shots. When all was said and done, I had a lot of fresh ginger left over. And though it keeps pretty well, it was highly unlikely that I could use it up in the course of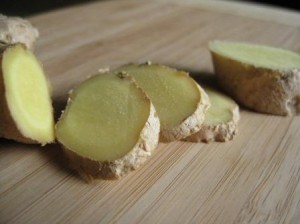 everyday cooking.
Something inspired the idea of ginger syrup. Then I remembered the big bottle of rum that friends had gifted us a few months back. Those details plus the fact of our annual summer party planned for this past weekend inspired a creative impulse to take the Dark & Stormy into the realm of party pitcher-drinks.
I thumbed through friend Brad Parson's wonderful Bitters
book, and took a nod from his Dark & Stormy recipe, adding lime zest to the syrup, which made for really bold, peppery-citrus flavor. To retrieve the zest for this kind of recipe, use a vegetable peeler to peel away broad strips, avoiding too much of the white pith underneath, which has an extra bitter flavor.
Entertaining mode had fully kicked in when the pitchers came together and I'd turned my attention to my guests rather than my camera, so sadly no images of the finishes product. But by all accounts, it was mighty popular, the pitchers went down pretty fast in that first stage of the evening. Then it was on to the Pisco Sours.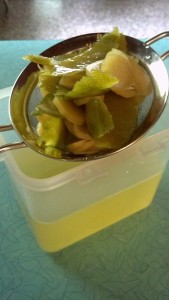 A classic Dark & Stormy is as simple as dark rum and ginger beer hooking up in a highball. You'll use good ginger beer, of course. It's always best to start with top-quality ingredients, but when there are only two? It's even more important. For a number of years that ginger beer choice would have been Reed's Ginger Brew, a bit sweet but not too bad, good ginger flavor with a nice peppery flavor. But Seattle folk have been more recently blessed with the creation of Rachel's Ginger Beer which has just opened a retail shop in the iconic Pike Place Market. That is definitely a product that packs some punch, with pronounced ginger flavor complemented with great citrus character. It makes one killer of a Dark & Stormy!
But since I had all that fresh ginger, my MO was not to reach for a bottle of ginger beer, instead starting my party punch from the base of that ginger-lime syrup. To it I added mostly classic Bacardi light rum that we'd been given, but I did find some Myer's dark rum on my liquor shelves. I also added some fresh lime juice and relied on plain seltzer water to provide the touch of fizz you'd have in the ginger beer (plus make the punch a tad less potent).
So while the Dark & Stormy cocktail isn't traditional destined for a pitcher, this is what I concocted for the festivities on Saturday night. Everyone seemed to approve! If I'd had more dark rum, I surely would have used more of it, please do feel free to amend the proportions, going even so far as to use only dark rum. This lighter version seemed ideal for a summertime warm evening.
Pitcher-Style Dark & Stormies
1/2 cup light rum
1/2 cup dark rum
1/4 cup freshly squeezed lime juice
1/2 to 1 cup soda water or plain seltzer
Lime slices
Ginger-Lime Syrup
1 cup granulated sugar
1 cup water
1/4 cup thinly sliced fresh ginger
Thinly peeled zest of 2 limes
For the syrup, combine the sugar and water in a small saucepan and bring to a boil over medium-high heat, stirring occasionally to help the sugar dissolve. Add the ginger and lime zest and simmer gently over medium-low heat for 5 minutes. Take the pan from the heat and let cool completely. Strain the syrup, discarding the ginger and zest. Cover and refrigerate until needed (this will keep for a couple of weeks).
Shortly before serving, combine the syrup (it should be about 1 cup), light rum, dark rum and lime juice in a pitcher and stir well to mix. Add soda water to suit your taste and desired strength of the drink. Refrigerate until ready to serve (best made not more than 3o minutes before serving).
To serve, fill a tumbler 3/4 full of ice, pour the delicious rum concoction over and add a lime slice. Enjoy. Responsibly.
Makes 6 to 8 servings
1 Comment for this entry