Recipe Variations: Thumbprint Cookies
Having just completed a few months of heavy-duty (and fun) promotion of my latest book, it's probably no surprise I've been deeply engrossed in salty snacks lately. When demonstrating or sampling a recipe from the book , the key is to represent the books recipes exactly as written to give folks an authentic taste of results they can expect. Which can take a bit of discipline on my part — when I'm off the cookbook-author clock, I rarely cook a recipe exactly the same way twice. Whether it's some seasonal ingredient shift, a short-cut or simply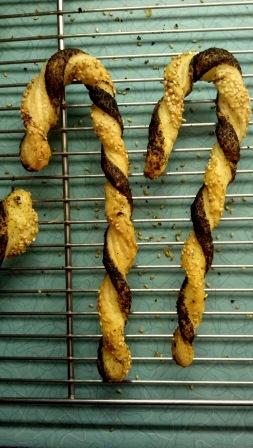 playing around with swapping things around for variety, I'm driven to try different things.
So after having done due diligence with that specific recipe promotion process, I thought I'd share with you a couple recent variations I cooked up just for fun.
The first grew out of conversation at Books to Cooks up in Vancouver. I did an informal demonstration of how easy it is to make delicious snacks from store-bought puff pastry. The recipe in Salty Snacks (which you see on the book cover) coats one side of the dough with poppy seeds, the other with sesame seeds, then strips of the dough are twisted to produce a spiral black-and-white effect that impresses. As I was transferring one of those strips from the counter to the baking sheet, it landed a bit sloppy, flipping over at the end. Vaguely reminiscent of a black-and-white candy cane. Which got coversation started about a potential seasonal twist on the theme, which I finally had a moment to try last week.
For the red, I leaned toward tomato powder, it seemed the reddest natural option. Rather than start with fresh tomatoes and dry them for many hours until arid enough to grind, I started with sun-dried tomatoes (the non-oil-packed type) and dried them from that pliable-leather-texture to dry-dry. In hindsight, perhaps fresh would have been better, despite the extra time; the sun-dried were quite dense and didn't pulverize to powder in the food processor as I might have hoped. Another option would be just using paprika, which I might try next time.
So I brushed one side of puff pastry lightly with melted butter (I use beaten egg in the book, either works) and sprinkled with sesame seeds, quickly flipped the dough over and similarly topped the dough with the ground dried tomato, plus a sprinkle of salt of course! The tomato cooked to a mahogany brown, not so "candy cane" like but still rather festive. And tasty.
Another variation grew from samples that were made for a bunch of signings I did earlier this month at Metropolitan Markets. They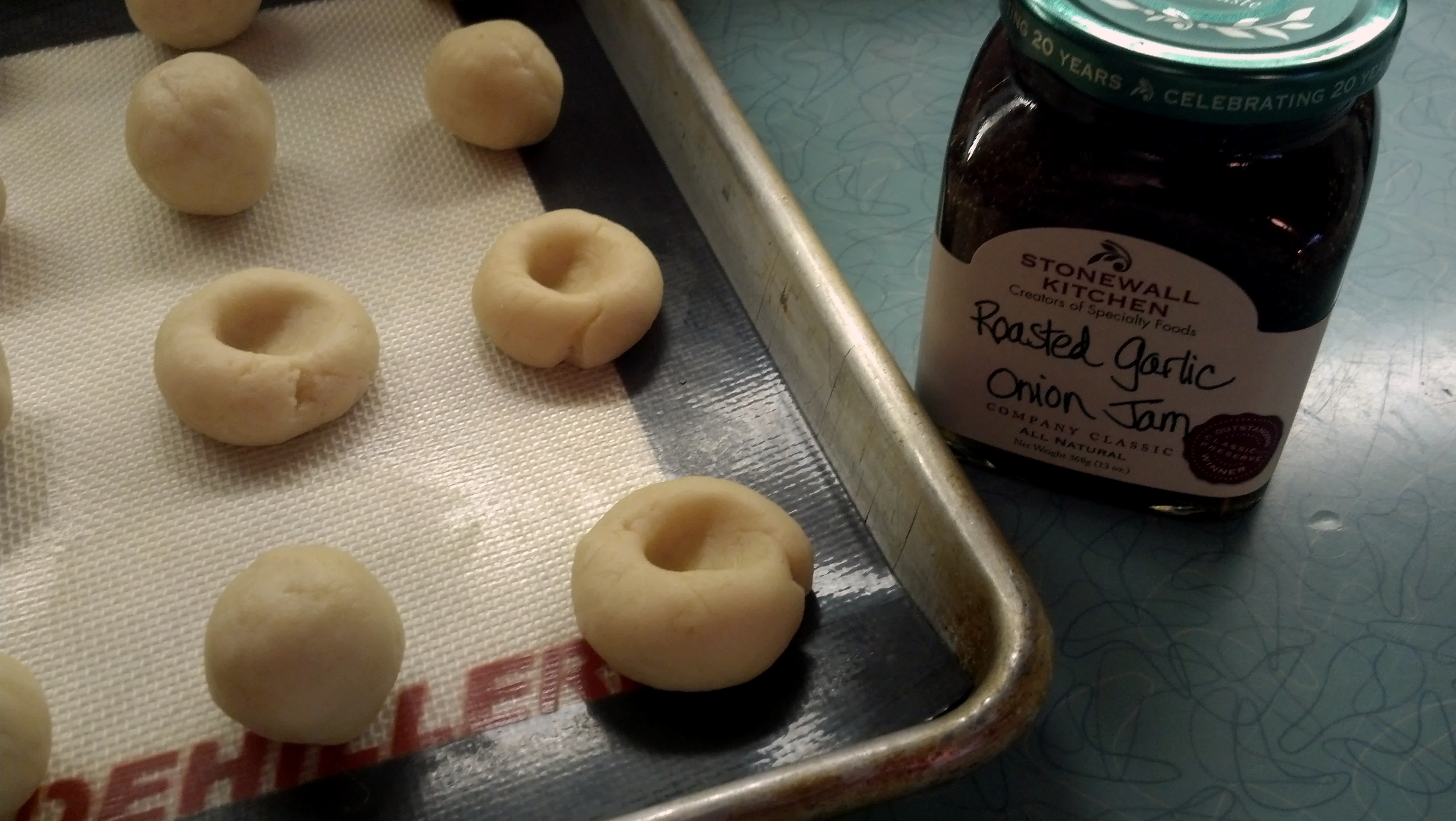 whipped up the Parmesan Thumbprint Cookies with Tomato-Tart Cherry Jam, a  fun savory twist on the popular thumbprint cookie. The "jam" in the recipe is a super simple combination of fresh tomato, shallot, dried tart cherries, thyme and water, it comes together in just 20 minutes or so. But I do note in the introduction to the recipe that, as a shortcut, you could nix making that jam and just use a not-too-sweet prepared jam such as plum or fig. Which I told customers at those five stores over and over again during the signings. To the point that I decided to whip up a batch myself.
The variation I made a few days ago used not fig or plum but some onion-garlic jam that sounded like another delicious option. There are so many interesting savory condiments available today that are in that jam-like vein. I see no reason a good chutney or thick relish or any number of other options wouldn't also be delicious.
The other twist I made was in the cheese department. The recipe calls for Parmesan cheese in the dough, but a few days earlier I'd taken advantage of a special on aged gouda at the store (1000 day aged gouda, no less!) and figured that would be a tasty alternative. Indeed it was! I imagine any number of hard, dry cheeses in that Parmesan style will be outstanding.
Overall the the short-cut variation was pretty tasty. Though for my palate, the prepared jam — even though savory — was sweeter than I'd like. My recipe doesn't include any sugar in the filling.
As the culinary helper at Metrop0litan Markets mentioned often, these thumbprint cookies would be a fun and interesting variation on the usually-sweet cookies we take to friends' homes at this time of year. So if you're still in the market for some baking inspiration, here's one recipe you might want to add to your list!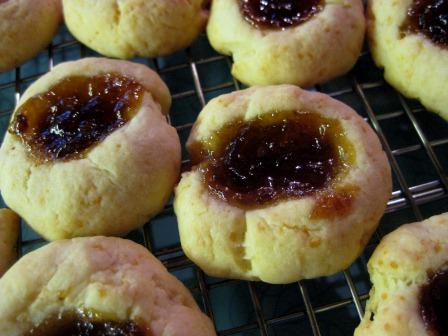 .
Cheers and happy holidays!
Parmesan Thumbprint Cookies with Tomato-Tart Cherry Jam
This harkens to those beloved jam-filled cookies that have been favorites in cookies jars for generations. This savory twist embellishes the dough with Parmesan cheese, the jam in question made with tomato and tart cherries. The jam recipe makes more than is needed for this batch of cookies, but it's not practical to make in smaller quantities. Extra will keep well in an airtight container in the refrigerator for two weeks. Spread it on turkey or ham sandwiches, slather it on chicken breasts before baking, or serve as an accompaniment to cheese. You can use dried cranberries in place of the dried tart cherries if you like.
For a short-cut version, you could nix making the jam here and simply use plum or fig jam, or another minimally-sweet jam.
1 3/4 cups all-purpose flour
3/4 cup finely grated Parmesan cheese
1/2 cup unsalted butter, at room temperature
1/2 cup cream cheese, at room temperature
1/4 teaspoon kosher salt or flaky or coarse sea salt
 Tomato-Tart Cherry Jam
1 tablespoon olive oil
3 tablespoons minced shallot or onion
1 cup finely chopped seeded tomato
1/2 cup dried tart cherries
1/4 cup water, more if needed
3/4 teaspoon minced fresh thyme or 1/4 teaspoon dried thyme
1/2 teaspoon kosher salt
Preheat the oven to 350 F. Line a baking sheet with parchment paper or a silicone baking mat.
For the jam, heat the olive oil in a small saucepan over medium heat. Add the shallot and cook, stirring often, until tender and aromatic but not browned, 2 to 3 minutes. Stir in the tomato, dried cherries, water, thyme, and salt and continue cooking until the cherries are plumped and the tomatoes are soft, about 10 minutes, stirring occasionally. Let cool, then purée the jam in the food processor, adding a bit more water as needed to achieve a texture a bit thinner than applesauce. Set aside.
Combine the flour and Parmesan cheese in a food processor and pulse until the cheese is finely ground and well blended with the flour. Add the butter and cream cheese and pulse just until a cohesive dough forms, scraping down the sides as needed; avoid overmixing.
Form the dough into 24 balls about 1 1/4 inch in diameter and set them on the baking sheet about 1 inch apart. Press your thumb into the center of each ball to make an indentation (it's normal for the edges to crack a bit, you can gently pinch together any particularly large cracks). Fill each indentation with some of the jam, about 1/2 teaspoon each.
Bake the cookies until firm and nicely browned around the edges, 30 to 35 minutes. Because this dough is a bit dense, be sure the cookies are thoroughly cooked, beyond just a light golden brown. If you pull them out too soon they may still be a bit underdone in the center. You can always snag one from the tray and break it in two to check; a snack for the cook.
Let cool slightly on the baking sheets, then transfer to a wire rack to cool completely. If not serving within a few hours, store in an airtight container for up to 2 days.
Makes 2 dozen cookies