Portland: It Always Delights
I love living in Seattle for just a huge range of reasons…… But one that's standing out for me right now is its simple geography. No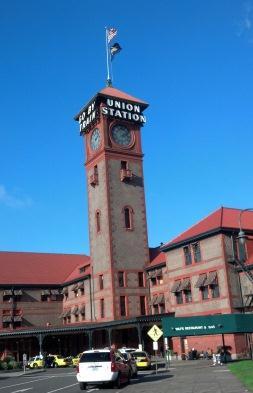 t that it's on the Puget Sound, or framed by two mountain ranges or in the Cascadia zone that creates a distinctly lush environment for countless outstanding foods that enrich our dinner plates.
Those are all perfect reasons to love Seattle. But right now I'm ruminating on how happy I am to live in a great city that's almost smack dab between two other outstanding cities: Vancouver, BC and Portland, Oregon. I was sitting on the train home from Portland last week as I began to write this post, having made this same trip late September, and a trip to Vancouver in between. Those two few-hour journeys are among my favorite Northwest escapes. (And as often as I can help it, I don't make the trip in the car; not when the Amtrak Cascades service is so convenient, relaxing, scenic…. I'm a huge fan.).
This Portland trip was particularly rich in catching up with friends, celebrating accomplishments, eating well. The original hook for this visit was a little promotion for Salty Snacks. I tapped my good friends chef/restaurateur Cathy Whims and mixologist/spirits master Ryan Magarian about possibly hosting a cookbook event at the restaurant they're partners in, Oven & Shaker, which opened just about a year ago. I've loved Cathy's Nostrana from my first visit, but as it's on the east side, I don't get over there often as I might if  wasn't typically carless in Portland (train-riding side affect). But Oven & Shaker's central Pearl District location makes it an ideal spot en route to the train station for pre-return lunch, or just a quick stroll from a downtown hotel for dinner.
The space proved awesome for a casual afternoon of snacking and sipping. Chef Devon and her team cooked up a few recipes from the book: Parmesan Pink Peppercorn Crisps, Chile-Cornbread "Biscotti" and the ever-popular Carrot & Parsnip Chips. I was thrilled that a bunch of folks were willing and able to swing in on a weekday afternoon around 3:00 to join the fun. Ryan remembered that one of my longtime favorite cocktails is the French 75, which he featured for the event. (So tasty, a couple a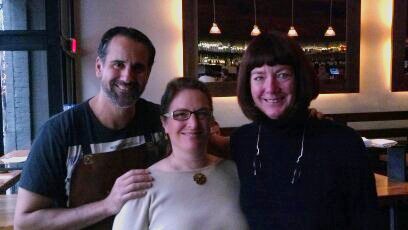 ttendees asked him to jot down the recipe in the back of their copy of the cookbook!)
One added bit of book promo popped up later, I was asked by a producer at KATU TV in Portland to come join them on the AM Northwest morning show,. That was a lot of fun and you can catch a clip of my spot here if you like. As usual, live TV often serves up a couple unscripted moments. Like catching myself about to say "sugar" instead of "salt" at one point (where on earth did that come from?). And the host Dave, when the subject of kale chips and their popularity, blurts out "kale is awful" — which I didn't quite have time to argue with him about (I happen to love kale). He did clarify that he's okay with it cooked, just can' fathom eating it plain, raw.
A lunch with friends got me back to a restaurant I went to a few times after it first opened, when it was white-hot with popularity and one of then-fewer  prospects in the still-burgeoning Pearl District. It happens everywhere, that once-renowned restaurants lose ground to newer options, not necessarily because they change their scope or falter in their offerings, but simply because so many new kids are on the block and diners' attentions simply get diverted. I'll admit to having walked by Bluehour probably dozens of times in recent years and briefly wondered to myself how it was holding up, but didn't venture inside to find out. I haven't been following how things had been going at Bluehour over the past decade or so. But after lunch there last week it seems to be in fine form right now. Chef Thomas Boyce has been heading the kitchen for a little over a year if I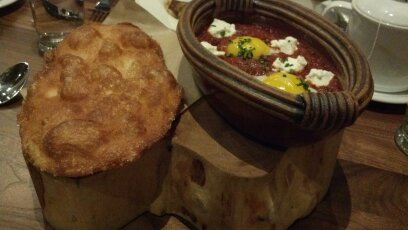 remember correctly, and the lunch menu was fully enticing. Four of us shared a plate of cheese tortellini in tomato sauce, which sounds simple enough and perhaps unremarkable, but the light delicate pasta and bright sauce, balanced (not cloying) cheese filling — it was all so very good. And when I see celery root on a menu it's hard to resist, so I had to have both the celery root soup with brussels sprout/apple garnish and the Dungeness crab sandwich with avocado (avocado, celery root, about the same compulsion to always order…..). Another trip I'll try to get back to Bluehour for dinner; I'm all for continued support of restaurants with a little time under their belt.
But…..speaking of those new kids on the block. One of the newer spots in town that I've now tried for both dinner and breakfast is Imperial. It's the latest from longtime Portland chef Vitaly Paley, who's Paley's Place is still going strong in NW Portland. They'd been open just a few days when I was down in September, made for a great solo dinner in the bar, sipping local pinot gris and enjoying grilled salmon and their outstanding kale salad (Portland LOVES kale salad, everyone seems to have one on the menu…..). This trip it was a breakfast meeting. With an egg dish that definitely stand out: they're cooked directly in a lightly spicy tomato sauce that's studded with fresh goat cheese, served with a decadent piece of fry brad alongside. Man oh man, that was just soooo good.
L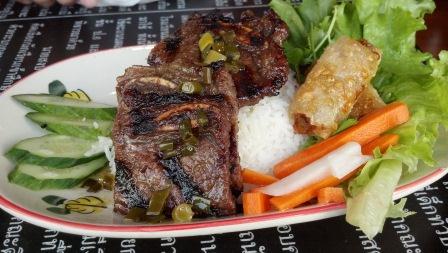 ast but not least. There are a few spots I'm most likely to hit on the way back to the Union Station to catch that 2:50 train back to Seattle: Clyde Common (which I didn't go to once this trip, trying to branch out a bit!), Oven & Shaker (for a wood-fired pizza), or Ping (quick & easy & fun Asian). The latter's where I met a friend before heading home last week. I always go for a noodle bowl, last time it was the Spicy Mama Ramen, the noodles served in a pork broth with pork balls, prawns, yu choi and poached egg. This time I went rice instead, the Vietnamese short ribs hit the spot like a dream.
Loved having a couple back-to-back Portland trips these past few months. I can count on some excuse to get back down there before long. Or up to Vancouver for that matter. Either direction, it could be at the drop of a hat! Thanks to living in this sweet spot between the two.