Simple & Tasty: Pea-Mint Spread
Sometimes I'm kind of sheepish about creating a recipe that just seems SO simple that there's almost nothing to it. But then I'm constantly reminded that, in fact, there's probably no such thing as being too simple (like too rich or too thin?). This is just one of those recipes. Throw a few things in the food processor, purée a few moments, spoon onto a wedge of pita. You're good to go! In the book, I top the spread with small pieces of crisped pancetta, which add crisp-salty-rich character to complement the slightly sweet and soft texture of the spread. For vegetarians, another option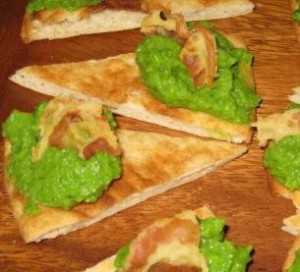 might be crisply fried thin slices of shallot. Or even solo, the pea mixture is mighty tasty.
Interesting thing to me is that regardless of the simplicity of the dish, everyone just loves the flavors of it. Even if part of their reason to be jazzed about it had nothing to do with how easy it was for them to make. It was one of the dishes I served at the book launch party last month, folks raved. Your guests will too! And you don't even have to let on that it's such a quick thing to put together.
Green Pea and Mint Spread with Crispy Pancetta (from Gourmet Game Night)
2 cups fresh or thawed frozen green peas
3 tablespoons chicken or vegetable broth or water, plus more if needed
2 teaspoons finely chopped fresh mint
Salt and freshly ground black pepper
5 thin slices pancetta
2 thick (6-inch) pitas, preferably without pockets
Bring a pan of salted water to a boil and prepare a bowl of ice water. Add the peas to the boiling water and simmer over medium heat until tender, 2 to 3 minutes for fresh peas, about 1 minute for frozen peas. Drain, add to the ice water, and let cool. Drain the cooled peas and scatter them on paper towels to dry.
Puree the peas, broth, and mint in a food processor until smooth, scraping down the sides as needed. the texture should be firm enough to hold its shape but not stiff; add another teaspoon or two of broth if needed. Season to taste with salt and pepper. Refrigerate, covered, until you are ready to serve.
Heat a skillet over medium heat. Add the pancetta slices and cook until nicely crisp and lightly browned, about 5 minutes, turning the slices occasionally. Drain on paper towels.
Preheat the broiler and set the top rack about 5 inches below the heating element. Set the pitas directly on the rack and broil until lightly browned, 1 to 2 minutes per side (use tongs to turn the pitas easily). Let cool, then cut each round into 12 wedges.
Top the broad end of each pita wedge with about 1 tablespoon of the pea puree. Break the pancetta into bite-sized pieces and press a piece into the puree on each wedge. Arrange the wedges on a platter and serve.
Makes 24 pita wedges
↑ For a large party, you can double or triple all the ingredients, but make the puree in batches
↓ For a smaller group, you can easily halve all the ingredients
You can make the puree up to 1 day ahead, cover, and refrigerate. Toast the pita and cook the pancetta up to 4 hours ahead. Assemble shortly before serving.