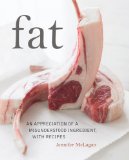 Once again, being a food writer–while not the most highly paid profession going–proved itself for the small perks that come along the way. Today it was a box from Ten Speed Press which held in it a copy of the new cookbook from my pal Jennifer McLagan, the Torontonian who penned the awesome (and James Beard award-winning) Bones
a couple years back. Her latest is called, simply, Fat
and it's really love at first site: decadently fat-endowed lamb chops on front and a lovely crock of butter on the back. I want some. Right now.
Jennifer had been telling me about this book in recent months and I'm so happy to finally have a copy in my hands. Flipping through a few pages made me realize a few wonderful, rich, fatty delights I'd had of my own this past week. Last Wednesday it was dinner at Holly Hill Inn in Midway, Kentucky (more on that trip soon), where chef Ouita Michel celebrated porky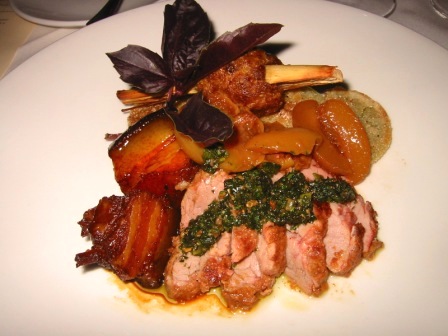 deliciousness with this plate that paired juicy pork tenderloin with amazing slow-cooked pork belly. A couple days ago, my husband and I made a visit to our favorite sushi joint in town, Saito's, where the menu now sports skewered, grilled delights. We sampled the wagu beef imported from Japan, small cubes of utterly rich, melt-in-your-mouth meat that makes a marbled ribeye look like a lean piece of sirloin.
And yesterday after a most interesting hands-on class with other writers at Tilth restaurant, where Maria Hines took us through the steps of the wonderful alchemy of sous vide cooking (more on that one day soon as well), the chef set out an impromptu butter tasting. We sampled the tasty organic butter she brings in from Oregon, alongside the butter they make in-house as often as they're able, using the organic milk from Fresh Breeze dairy in Lynden, Washington.
You've probably heard it a thousand times, and rightfully so, that fat carries flavor. But more than that, fat enriches dishes by keeping them moist, helping foods caramelize and adding thick rich texture. AND? On top of all that? The truth is that fat is not nearly the dietary evil that it's been made out to be. I'm no nutritionist and won't even pretent to play one on this blog. But Jennifer offers some great food for thought about the role that fat can, and should, play in our diets.
It doesn't help that I opened this book after a trip to the YMCA and before having lunch. But I want to try EVERYTHING! Especially the Salted Butter Tart, Duck Rillettes and Dandelion Salad with Hot Bacon Dressing.
Funny thing, I was just making my way through the latter pages of the book and noticed a recipe for Bacon Baklava. Odd and freaky, you say? "I've had that!" I just said to myself. At Brasa, when Tamara Murphy did an all-pig dinner a couple years ago. In fact, Jennifer attributes that recipe's inspiration  to a friend in Seattle who had recounted just that dinner. Her version sounds mighty tempting.
Here's to pure, delicious, versatile fat and all the joy that it adds to our gastronomic lives.
1 Trackback or Pingback for this entry